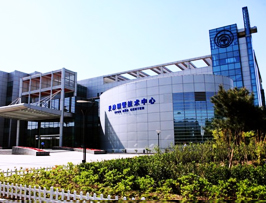 One of the Top 500 enterprises in China foreign trade
QCCO was approved as a member of "China Association for Contracting Projects Abroad "and granted a membership certificate on Sep 28,2005; "Credibility Rating AAA certificate in Foreign Trade" was granted to QCCO by China Shippers' Association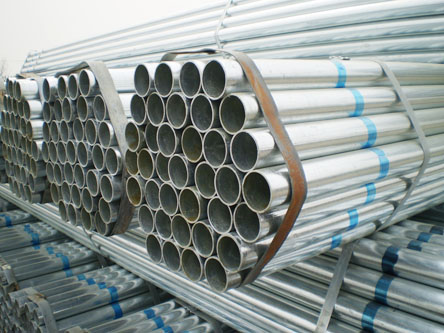 1)Product Name:ASTM A53 Hot-dip Galvanized steel pipe
3)OD(mm):21.3 26.7 33.4 42.2 48.3 60.3 73.0 88.9 114.3
4)Nominal thickness(mm):2.77 2.87 3.38 3.56 3.68 3.91 5.16 5.49 6.02
5)Coefficient(c):1.064 1.051 1.045 1.040 1.036 1.034 1.032 1.028
6)Steel grade:Q215A Q215B Q235A Q235B
7)Standard weight class:STD
8)Class A test pressure(Mpa):4.83MPa-13.10Mpa
9)Test pressure value(Mpa): D10.2-168.3mm to 3Mpa, D177.8-323.9mm to 5Mpa
10)Weight(Black Tube)(kg/m):1.27kg/m-16.07kg/m
11)Galvanized steel pipe Production:Has the following production steps:a. Round preparation, b. Heating, c. Hot perforation, d. Cutting head, e. Pickling, f. Grinding, g. Lubrication,
h. Cold rolling, i. Degreasing, j. Solution heat treatment, k. Straightening,
l. Cutting, m. Pickling, n. Inspection.
12)Application:Widely used in fire fighting, gas pipes, water transport and water
supply projects; building, central air-conditioning pipe, fence, threading pipe,
rolling doors, metal frame, support tube, furniture, sports equipment, fence, etc.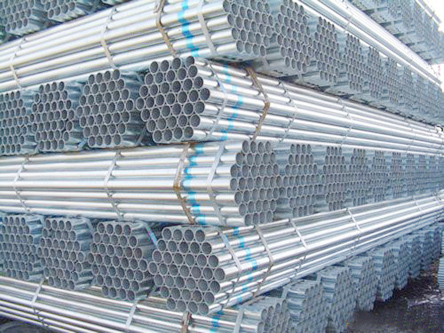 Galvanized Pipe
galvanized steel tubes

O.D

O.D tolerance

W.T

Thickness Tolerance

21.3-219.1MM

±0.03mm

1.4-8.5MM

±0.02mm

Length

2--12M , according to customers' requirements

International Standard

ISO 9001-2000

Zinc coating

240-400g/m2

Standard

ASTM A 53 / BS 1387/GB/T 3091-2001

Material

Q195/Q215/Q235/Q345

Package

1. Big OD: in bulk

2. Small OD: packed by steel strips

3. Woven cloth with 7 slates

4. Accordion to Customer's requirement

Processing technology available:

Threading , coupling and with plastic caps protected etc.

Place of Origin

China

Application

liquid delivery, construction, communication, gas,etc.
hot dipped galvanized steel pipe
Our company can produce pre-galvanized steel pipe with standard of EN10219 and with raw material of pre-galvanized steel coils, they are used as furniture tubes and look very good, welcome your enquiry.Appearance: round, Square, rectangular or oval.
Galvanized pipe
1. Outer diameter: 3-45mm
2. Wall thickness: 21-800mm
3. Spec.: Q195, Q215, Q235, Q345
4. Standards: ASTM-A53A, BS1387-1985, GB/T3091-2001
5. Steel pipe:
A) GTC(galvanized threaded and coupling) steel pipe: DN15-DN200 (NB1/2''-NB8'')
B) GPE(galvanized plain end)steel pipe: DN15-DN200
C) Grooved steel pipe: DN15-DN200 (NB 1/2''-NB8'')
D) Used for low pressure liquid delivery such as water, gas and oil
E) The product apply to various anticorrosive pipes